Emily Woodward
Scholarship
H
ere at
RealMoney.co.uk
, we believe that giving back to the community is something every responsible organisation should invest in. Due to the success of our website, we have decided to establish an annual scholarship, aimed at supporting the education of one bright young mind. Every eligible student can now apply for a $2000 scholarship, paid towards their tuition for the upcoming semester.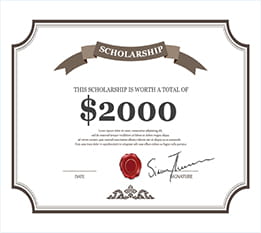 Interested in applying for the Emily Woodward scholarship?
You need to fulfil our requirements for eligibility and follow the application process, both described below.
Who Can Apply?
You are eligible for our $2000 scholarship if you cover the following requirements:
You are 18 years old or older
You are enrolled in an accredited post-secondary educational institution by the time the winner of the annual scholarship is announced
Your cumulative grade point average (GPA) is 3.0 or higher
How to Enter the Contest
In order to enter the competition for our scholarship, you need to write and send us an essay on the following topic: What Does the Future Hold for Money? We want you to give us your own personal thoughts on the matter, focusing on contemporary currencies and alternative payment options in the future. Here are the requirements for the essay:
The essay must be written in English
The essay must be a minimum of 1000 words
The essay must be unique and devoid of any plagiarism
Please note that essays with persistent grammatical or spelling errors will not be considered. Make sure that any references in your essay are clearly accredited where they are due.
Submit Your Application
Your application must be emailed to scholarship@realmoney.co.uk, with the subject being 'Emily Woodward Scholarship'. Along with the essay, please send us the following information about yourself:
Full Name
Email Address
University Name
Major
Brief Personal Info (50 – 100 words)
Deadline
Starting Date: 1st November 2016
Deadline for Submissions:

31 May 2017
Winner Announcement: 31 July 2017
Congratulate Our Previous Winners!
Lionel T.
Business Management
Ohio State University
Jessica P.
Women, Gender, and Sexuality Studies
University of Kansas
Terms & Conditions
Applicants must be enrolling full-time or part time
Essay must be at least 1000 words, in English, and must be submitted in .pdf or .doc format
All submissions will be thoroughly reviewed, and only one winner will be chosen
Applicants must be 18 or older at the time of submission
Only one entry per applicant is permitted
Scholarship is available to students worldwide